WR - MY21 EX-VX SPEAKERS EU KT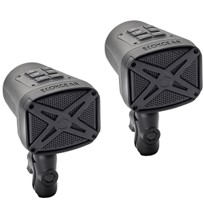 WR - MY21 EX-VX SPEAKERS EU KT
Yamaha exclusive EcoXGear® Bluetooth® speakers. EcoConnect paired out of the box for stereo listening; possible to de-pair and use independently.
Includes RAM mounts and necessary hardware.
IP67 Waterproof/ Shock resistant /Floating.
15+ hours of playtime.
One-touch off - turn off one speaker, other goes off too.
EcoTalk button for easy activation of Siri & Google voice.
Marine grade materials.
15W 2.5" speaker.
Bluetooth 4.2 streams wirelessly from up to 30 meters away.